348 Post Commander
​Doug Paquette



​Preamble to the Constitution
For God and Country we associate ourselves together for the following purposes:
To uphold and defend the Constitution of the United States of America, to maintain law and order; to foster and perpetuate a one hundred percent Americanism; to preserve the memories and incidents of our associations in the great wars; to inculcate a sense of individual obligation to the community, state and nation; to combat the autocracy of both the classes and the masses; to make right the master of might; to promote peace and goodwill on earth; to safeguard and transmit to posterity the principles of justice, freedom and democracy; to consecrate and sanctify our comradeship by our devotion to mutual helpfulness.
---
Post News and Events
July 2-Annual July 4 Picnic-Bad Little Doggies 1-6pm (Tickets on sale in the canteen)
July 9-Bar Bingo 6-9 pm
July 16-Annual Rib-Off
July 22-Amber Moon 6-10pm
July 22-American Legion Night Blue Claws Stadium
July 30-Island Event, Reggae Rayon time tbd
​August 7 - Crab Tournament
August 12-Black Ties 6-10pm
Aug 20-Veterans Picnic
August 26- Slap Happy 6-10pm
September 9-Get Down Committee 6-10pm

Events are for members and guests only except for ticketed
​events which are open to the public!


---
---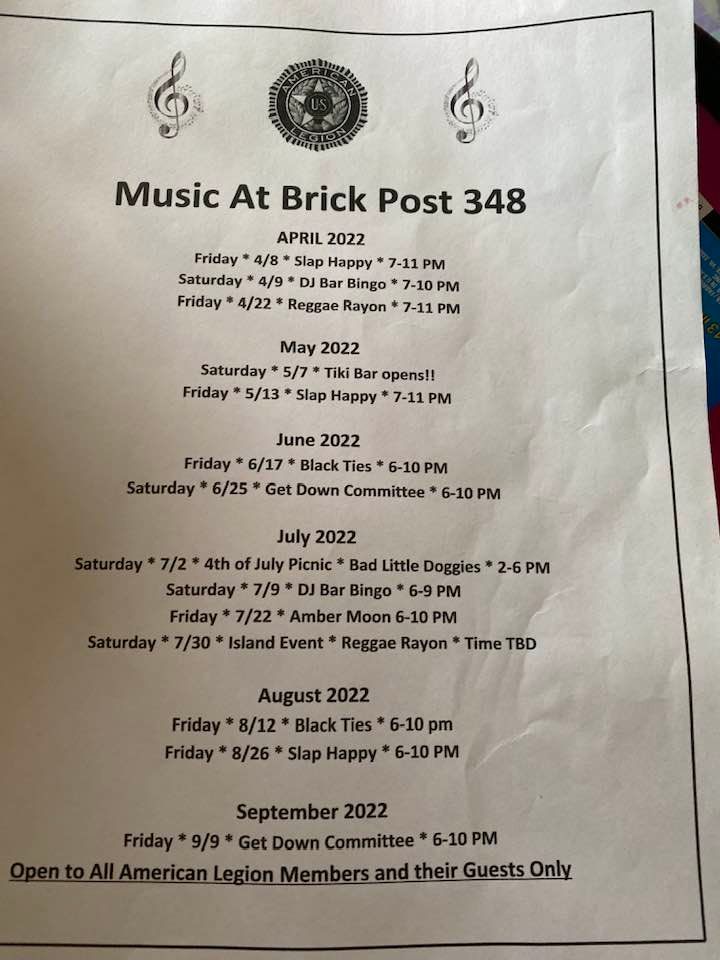 Our mission is to enhance the well-being of America's veterans, their families, our military, and our communities by our devotion to mutual helpfulness. The American Legion's vision statement is "The American Legion: Veterans Strengthening America."

​

If you have served at least one day of active military duty since December 7, 1941 and were honorably discharged or you are still serving active military duty honorably, you are eligible for membership with The American Legion.

If you wish an application to join American Legion Post 348, download an application!
---